The Zimbabwe Academic and Research Network (ZARNet) has said it enjoys synergies with organisations like TelOne and Telecel in a bid to attain its mandate of providing reliable and sustainable Internet and other ICT Solutions to the academic, research, and educational institutions and any other government establishments in the country.
ZARNet is a grant funded institution under the Ministry of ICT, Postal and Courier Services.
Spiked Online Media caught up with Mr. Tobias Moyo, the ZARNet Acting Head of Marketing at the Zimbabwe Agricultural Show in Harare where he took us through the work and mandate of the institution.
"Our statutory mandate is to provide reliable and sustainable Internet Connectivity and other converged ICT solutions to the academic, research, and educational institutions and any other Government establishments in Zimbabwe.
"ZARNet has provided cutting edge technology in its mandated sectors resulting in improved quality of research, academic output, and educational development. By committing your school, university, and research institution to getting ZARNet services, you are making a giant leap into the digital world that will make a complete change to the quality of your output," said Mr. Moyo.
He paid tribute to the hackathon initiative being spearheaded by the Postal and Telecommunication Regulatory Authority (POTRAZ) with support from the Ministry of ICT, Postal and Courier Services headed by Minister Dr. Jenfan Muswere as part of the country's ICT Innovation Drive whose major objective is to increase ICT research and development as well as its uptake by innovators and research institutions in Zimbabwe.
"We acknowledge the immense support from our partners – NetOne and TelOne who participate in hackathons so as to ensure that an increase in ICT research and development is achieved through identifying, supporting, and capacitating ICT innovators in the country, to develop their ideas into bankable solutions for Zimbabwe and the global market," he said.
POTRAZ Hackathons not only promote a culture of ICT innovation and development among Zimbabwean youths but also create employment and increase the total number of home-grown ICT applications. This resonates well with the National Development Strategy One (NDS1) and calls for the development and implementation of home-grown solutions to the country's problem as well as the creation of employment by local entrepreneurs.
"ZARNet promises provision of world-class services that are second to none; with service excellence and customer satisfaction at the center of our growth," Mr. Moyo said.
ZARNet offers VSAT, fibre, and radio broadband internet services in a bid to bridge the digital divide between the rural and urban areas. It also has a dedicated team of developers that can develop any kind of web application and/or professional custom website using various web development platforms.
At the moment it is running a campaign for radio broadband services for Harare. The service is also available in Victoria Falls, Bulawayo, Masvingo, and Mutare.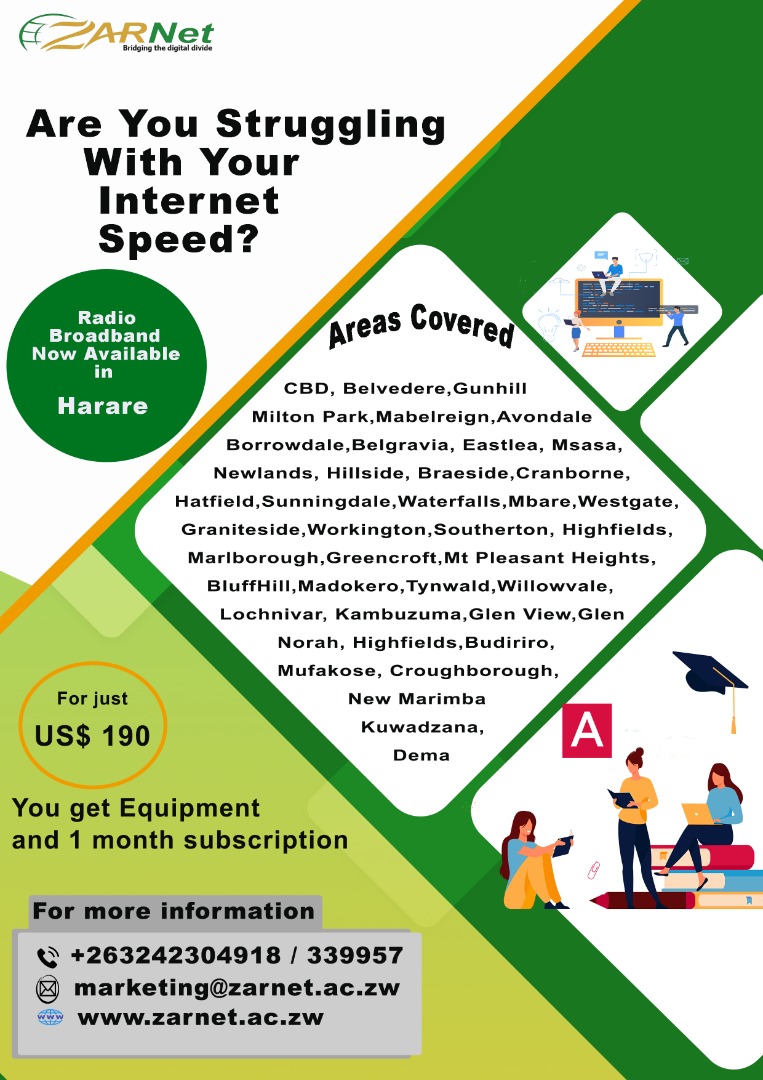 "We develop responsive formatted websites that display accurately on all devices. We will even teach you how to manage your website or we can manage it for you. We also provide full-service web hosting solutions for you while providing ongoing website updating solutions so your website stays protected and updated. We also provide search engine optimization and dedicated server hosting services."
ZARNet provides an efficient library management system. It manages the borrowing and returning of books, makes book reservations, generates bar codes, and online access to library books, among many other functions.
Through its e-learning portal, teaching and learning are made easy and funny. The portal is time and effort-efficient, safe and reliable, as well as easy to use.
ZARNet also offers to provide specialized ICT training on a number of subjects that include the following:
Training of ICT administrators, teachers, heads, and government officials
Digital content creation training
Basic troubleshooting skills
Credit: Byron Adonis Mutingwende , Spiked Media